Not Enough Time for a Blog Post? Just Tumblr Instead.
Problems finding time to blog but have more to say than you can using Twitter or Jaiku (link has expired)? Tumblr may be the perfect solution.
If blogs are journals, tumblelogs are scrapbooks.
Tumblr (totally Free) is what's referred to as a "tumblelog." According to the Tumblr FAQ: "To make a simple analogy: If blogs are journals, tumblelogs are scrapbooks. You can also look at tumblelogs as slightly more structured blogs that make it easier, faster, and more fun to post and share stuff you find or create."
There's even a Wikipedia entry on Tumblelogs that describes a definition by Jason Kottke dating back to 2005.
You could also describe a Tumblelog as a Micro-blogging platform. Perfect for dumping in quick notes, thought, ideas, quotes, pictures, videos, etc. Anything that you might come across in your Web travels that you find interesting but that don't require a full blog posting. So you can use a Tumblelog right along side your blog and not instead of your blog.
If you don't yet have a blog, a Tumblelog may be a great way to get started. Tumblr is one of the better known tumblelogs and has a list of great features that make it actually fun to use.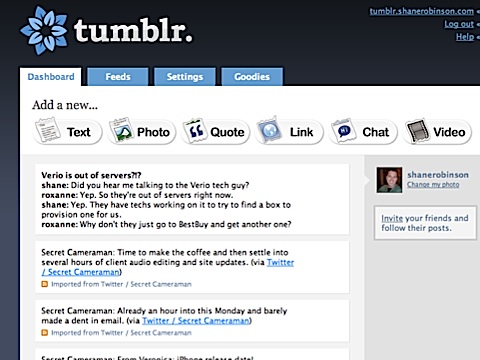 Once you've created your free Tumbler account you can login to your Dashboard where you're greeted with a very attractive and sleek interface. A row of six easily identifiable button across the top of the page allow you to select which type of Tumblr entry you'd like to create.
Selecting "Text" or "Quote" produces a simple text entry field into which you can type whatever's on your mind. Selecting "Photo" presents you with a button that allows you to upload a photo from your computer. "Video" allow you to easily paste in code to display a video from YouTube or your favorite video sharing site.
One of my favorite Tumblr options is the "Chat" type. By simply entering text in the following format your page displays a chat or IM (instant messenger) type of dialog:
Here's an actual Tumblr Chat from my own Tumblr page.
So if you haven't started blogging yet and you'd like to dip your toes in the water without setting up your own blog, Tumblr might be perfect for you. And even if you already have a blog or consider yourself a power blogger, Tumblr might be perfect for posting those little gems you find while surfing that you'd like to share but don't necessarily want to post them to your regular blog.
If you have a Tumblr or tumblelog please leave a comment with a link. We'd love to see it!

—–
COMMENT:
AUTHOR: Ryan
URL: https://www.hawaiigeek.tv
DATE: 06/04/2007 10:47:18 AM
I'm warming up to tumblelogs. It is indeed 'micro blogging,' a scrapbook of thoughtful things found on the web (or in our digital wandering). Sure, folks post links to Twitter, but I think those apps works better for presence ("What are you doing? Where?") than blogging.
I'd follow your Twitter stream to keep up with you. I'd follow your tumblelog because you have a knack for finding things that I also like on the web.
Take a service like Jaiku, and throw in your blog feed, Twitter feed, tumblelog, Flickr feed, Last.fm feed, and all those other feeds you deliberately or passively create out there, and you've got a "lifestream." A surprisingly rich, running log of your life. I find it exciting. Many understandably find it a little troubling.