MacHeist: Lower Your Price, Use Your Network, Give to Charity, Earn over $2M
Posted on April 6, 2009 by Roxanne Darling
And do it all in less than 2 months.
"Whaaat?" you say. That's right. This is another example of the power of the social web, of leveraging your network, of the network effect, of doing good and doing well, and so many other 21st century concepts made possible by the internet combined with intrinsic human traits. It's also trust on the part of vendors, and it gets energy from the "bird in the hand is worth two in a bush" fact of life.
Rox's Free Advice Sidebar:
If you are in the music industry, this describes an opportunity waiting to be seized. What if a publisher/distributor like Mountain Apple Company set up a site like this and offered something new and special every day/week? It would be a great way to get more people listening to Hawaiian music. It just takes a modern web developer and one or two people who really get social media.
If you are in the travel industry, what a great time to bundle deals like this! If Hawaii companies could collaborate on a similar site, and offer new bundles each month – I think this would improve the collective bottom line. And think of how much it would get people thinking and talking and dreaming about a visit to our piece of paradise.
What:
MacHeist is a software bundler web site. They aggregate different applications from third party vendors into a package and sell the bundle at a discounted price, an old business practice familiar to many of us. People love discounts, so they buy the bundles, even if they might not want or use everything in it, but because the things they do want are cheaper than list price. Each software vendor benefits from added exposure and added sales.
How:
MacHeist recently bundled $980.70 worth of applications (13) for $39. The offer was good for 14 days tho pre-event publicity began about 6 weeks out.
When you purchase a bundle, you immediately receive an email with download links and valid serial numbers for 10 of the 13 apps.
When 400K was raised for charity, the 11th app was "unlocked". When $500K was raised for charity, the last 2 apps were unlocked and available for download with a valid serial number.
25% of all sales goes to charities that you can select during checkout: a specific charity or evenly divided among them all.
When you buy a bundle and create an account, you are given a unique link. You can then share this link. Based on your friends' purchases, you are entitled to two additional free apps, nothing more. The same offer was available to any of your friends who buy the bundle.
MacHeist posted an announcement video on You Tube to help spread the word. Others can then embed that video on their blog pages and web sites.
The program launched on Fri Feb 6th. On Feb 13th the official "mission" began. The bundle itself was announced on March 25th. The purchase offer expires tonight, on April 6th.
Results:
With one day left, they have raised over $628K for charity, sold 66,300 bundles, and earned over $2.6M in sales. (And the numbers are growing as I click submit on this blog post!)
In Case You Have Questions Like These in Your Mind:
"Doesn't this devalue the brand of the highly discounted apps?"
Not necessarily. It does bring them a boatload of untapped customers, a percentage of whom will upgrade later, tell their friends about your apps, and build your user base in discussion forums, etc. It is a very limited offer, so some consider that neutralizes the price discount. Smart companies see a "whole new batch of customers coming in the door" as an incredible opportunity, especially when you realize these customers are social early adopters – and will be more likely than average users to talk about your stuff and show off their results using your stuff.
"What's in it for MacHeist?"
They have a very simple business model. They have a beautifully designed site to manage (the unique user pages are all automated) and they get to help promote others, give money to charity, have fun, and make money themselves. People over 30 listen up: this is the way people like to build companies now. On the fly, dynamic, collaborative, and internet-based.
"How do they do this without advertising?"
They have built a brand that people love. Their fans are rewarded for playing with them, aka "buying the bundles." Their fans are further rewarded by telling their friends. This is the network effect. And they and their fans use social web tools like YouTube, Twitter, and communities to spread the word. They have even automated the ability to post your link to Twitter, which scores you two more free applications valued at $60.00!
"Isn't this just a pyramid scheme?"
Not one bit. First, each buyer is getting an incredible deal. Second, each buyer generally wants to share these great deals with their friends. Third, you only can earn a max of two free apps, so there is no incentive to keep trying to push sales beyond your organic network. Fourth, the same offer is available to every buyer.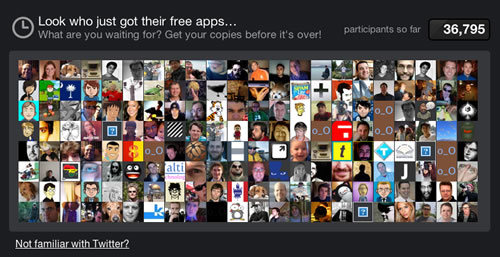 "What does fun have to do with it?"
Surprisingly, I think it is one of the key ingredients. The heist has elements of secrecy, of milestones, of rewards, of rewards for your friends, and the excitement of an auction. Sales are accelerating incredibly as we approach the last few hours of this offer. They even generously feature their buyers back on their site. If you follow them on Twitter and use the auto-tweet announcement after you have purchased, your face will show up on the live updating page. That's just cool, and fun, and generous – more attributes of 21st century web-based enterprise.
Want More?
Mac Update Promo does this every day for a single product by offering 30-50% off on a single pice of software. It is similar to what Target does with their weekly circular. It's just that a third party is doing the work building the customer base and sharing it with new companies. They send daily emails and we, as a small business, buy a lot of our software here at prices that might normally be available only to large bulk purchasers. This is great for nonprofits and entrepreneurs. And you know, business doesn't always have to be just about the Benjamin's.
As always, thanks for spending time here with us. I hope you'll share your opinions in the comments.
Category: Activism, Branding, HowTo, Money Matters Tags: auction, barefeetstudios, bundle, business model, charity, friends, fun, mac, macheist, marketing, music, referral, roxannedarling, shanerobinson, socialmedia, tourism, travel, twitter